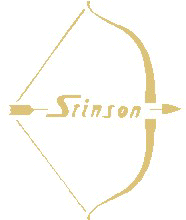 Well I've been looking at the Stinson 108-3 for a long time and dragging JoAnne to see every one that landed at Oshkosh for the last 3 or 4 years. In spite of the problems associated with the type's engine parts situation I still felt that this was the airplane for me. Vintage of course, good looks, useful load, size and comfort, cross country speed and not something every one else has. In other words, "my type of airplane" !
Anyway, I've been looking at Stinsons all along waiting for the right one to come along with my name on it and it finally did. This one just screamed at me and I couldn't resist. My new friend doesn't have the engine issues as it's owner completed an engine conversion using an 0-540 Lycoming with 235 horsepower. The interior has been re-done and it's fully IFR! Vic Steelhammer did a nice job on the Stinson. The only problem for me now is that the plane is in California and I'll have o fly it home!! What a problem to have!! Following are some preliminary pics.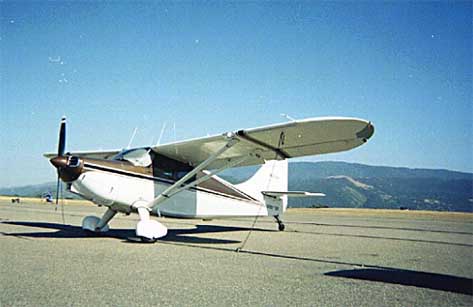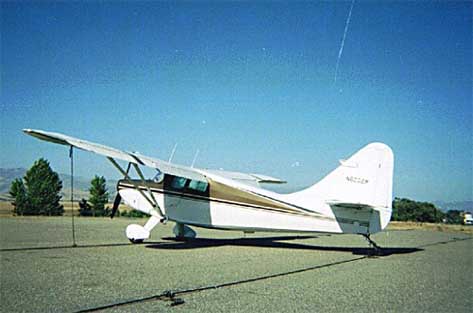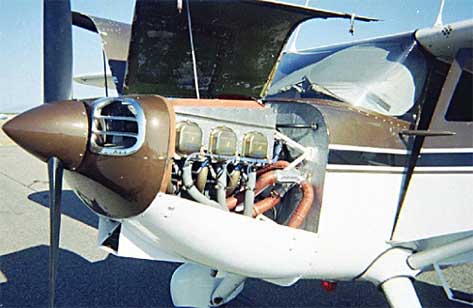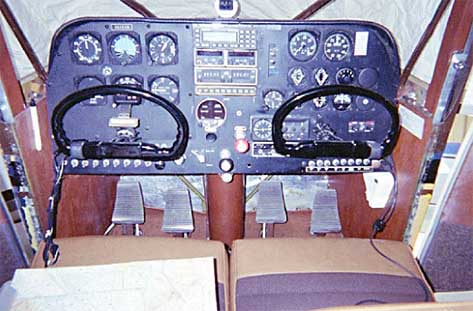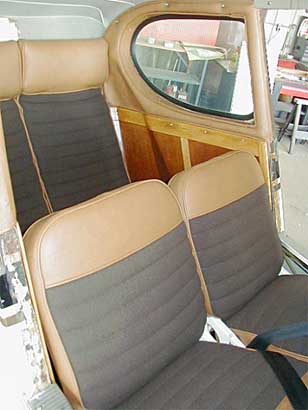 Anyway the great adventure of flying cross country starts Dec 30th! My friend Steve and I will depart from 52M's old home of WHP (Whiteman Airpark) in Southern California headed home to Auburn, Indiana.
 As we go along we will be updating this page with our progress and pics. Be sure to stay tuned!!
---
Tim and Steve's adventure with "Mikey" day 1
Well we had a heck of a day! First thing this morning we went to San Val Aviation to pick up a few things for our flight and a case of oil as we wanted to do an oil change before we left. There was a front approaching and we were close on time to get out of the LA basin. After changing the oil, Steve (my co-pilot and ferry pilot) went out to check out so we could leave. It started raining and the ceilings started dropping but we got out late and flew around all the LA airspace to get out to the east. We decided to stay south and headed for the Banning pass between LA and Palm Springs. Then on to Blythe along the CA / AZ border. Landing here about dusk it was dark by the time we fueled and got "mikey" tied down.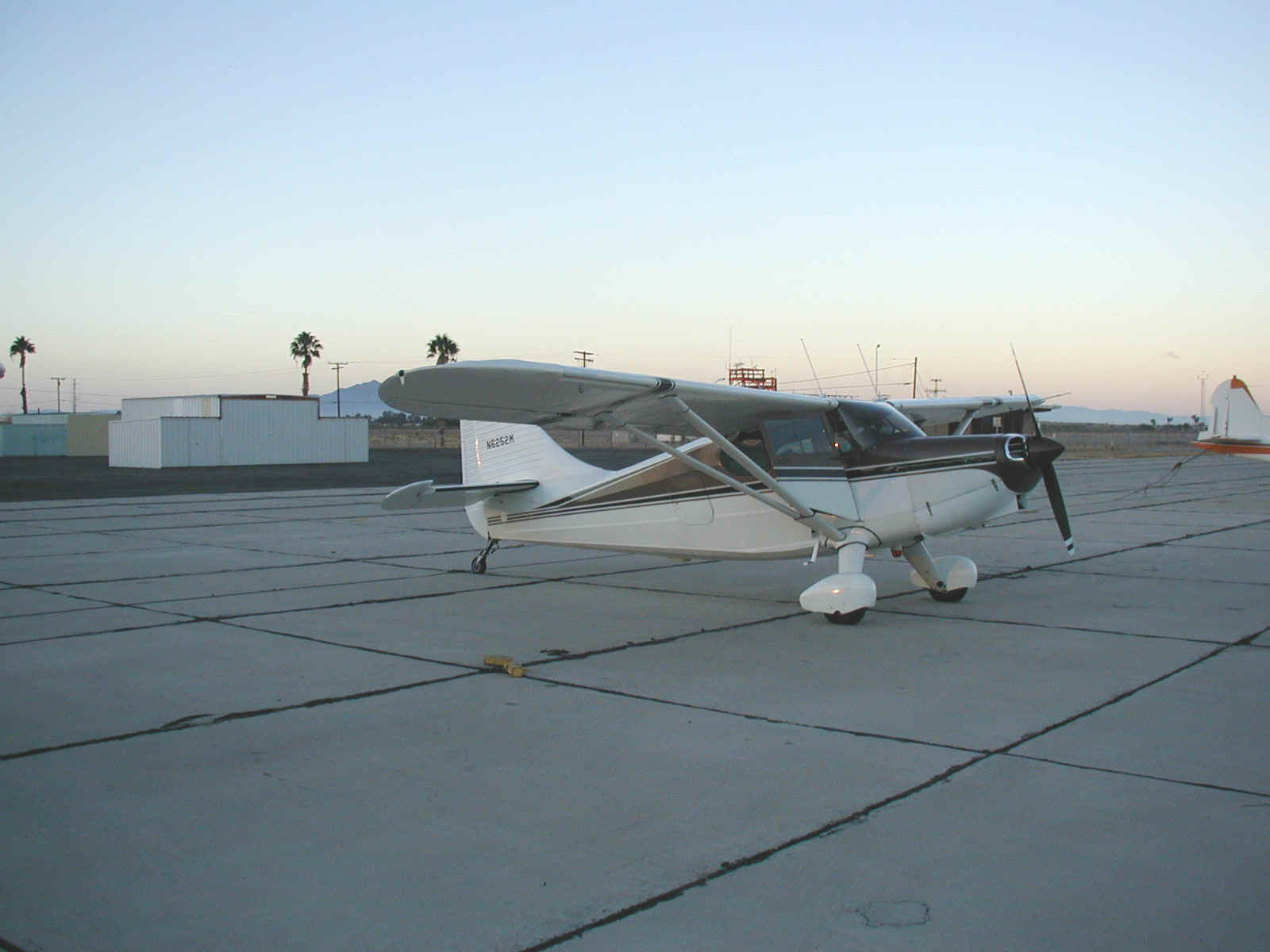 We stayed around 5500 feet and we didn't lean aggressively so our fuel burn was about 12 gph. Boy that 0-540 is smooth and powerful! Need to climb? just a small nudge on the throttle and up you go! We trued out about 140mph and with the tailwind we occasionally hit 160 gs. Not much else to tell other than this aircraft has already exceeded my expectations and is not only beautiful, it flies like a dream. More on our saga as we get along. See Ya!!
---
Day 2 - Well today was a real good day with a lot of miles and beautiful scenery. We left Blythe, CA into a dawning sun east bound trying to stay  in front of an oncoming front with the associated storms. Our first leg took us to Safford, AZ and our first fuel stop of the day. The FBO topped us off while Steve talked to the weather briefer and we had our first change of plans for the day.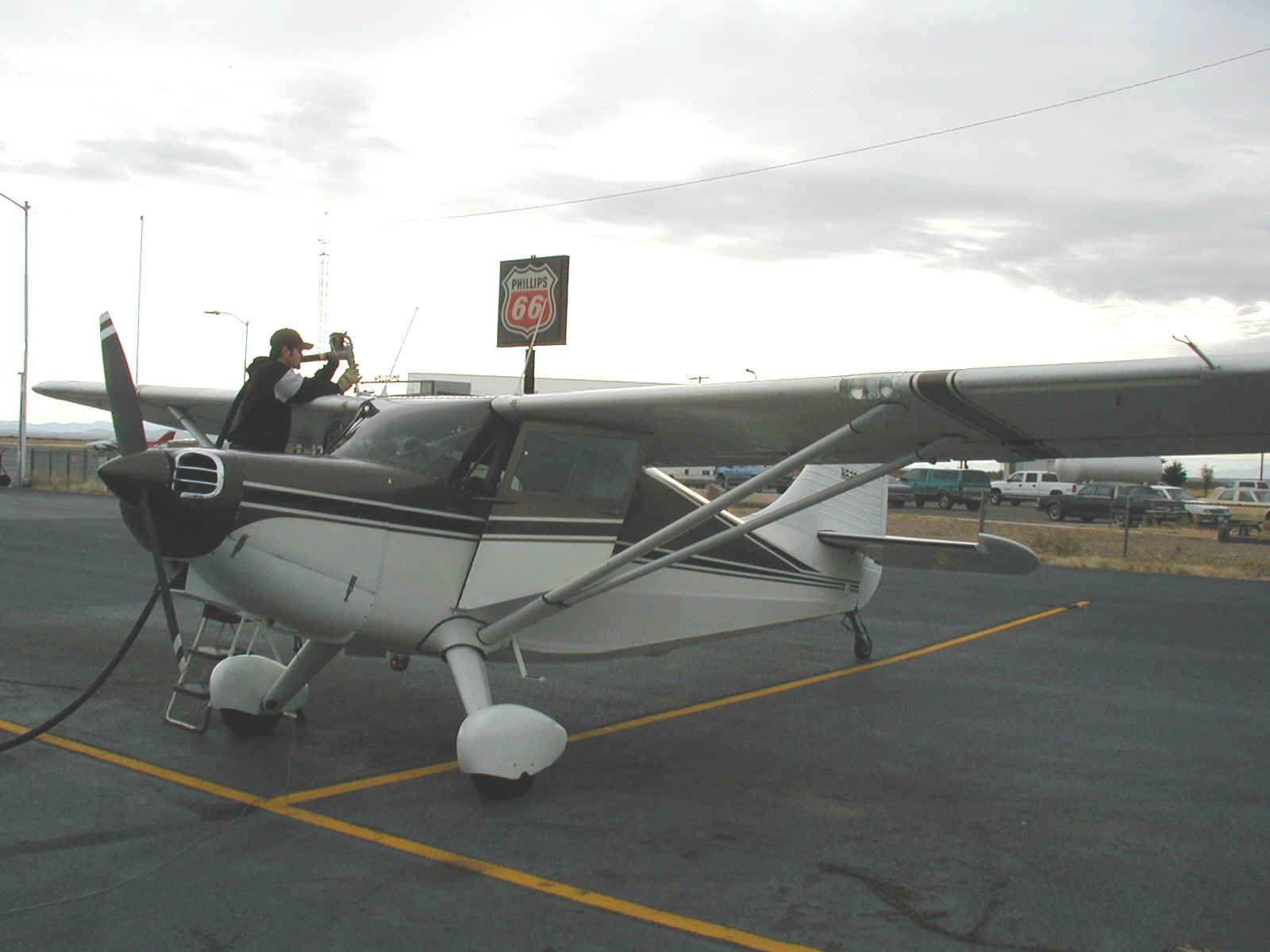 We had hoped to go further north towards Albuquerque but a southerly moving front dropping out of the north caused us to continue in a more southerly direction. We ended up heading towards El Paso and ended up in Mexican airspace for a few minutes. We landed at a small airport just west of El Paso called West Texas. For the second time today we attracted a crowd with the now familiar ooohs and aaahs as "mikey" is one fine old bird. Here you see me not having any fun!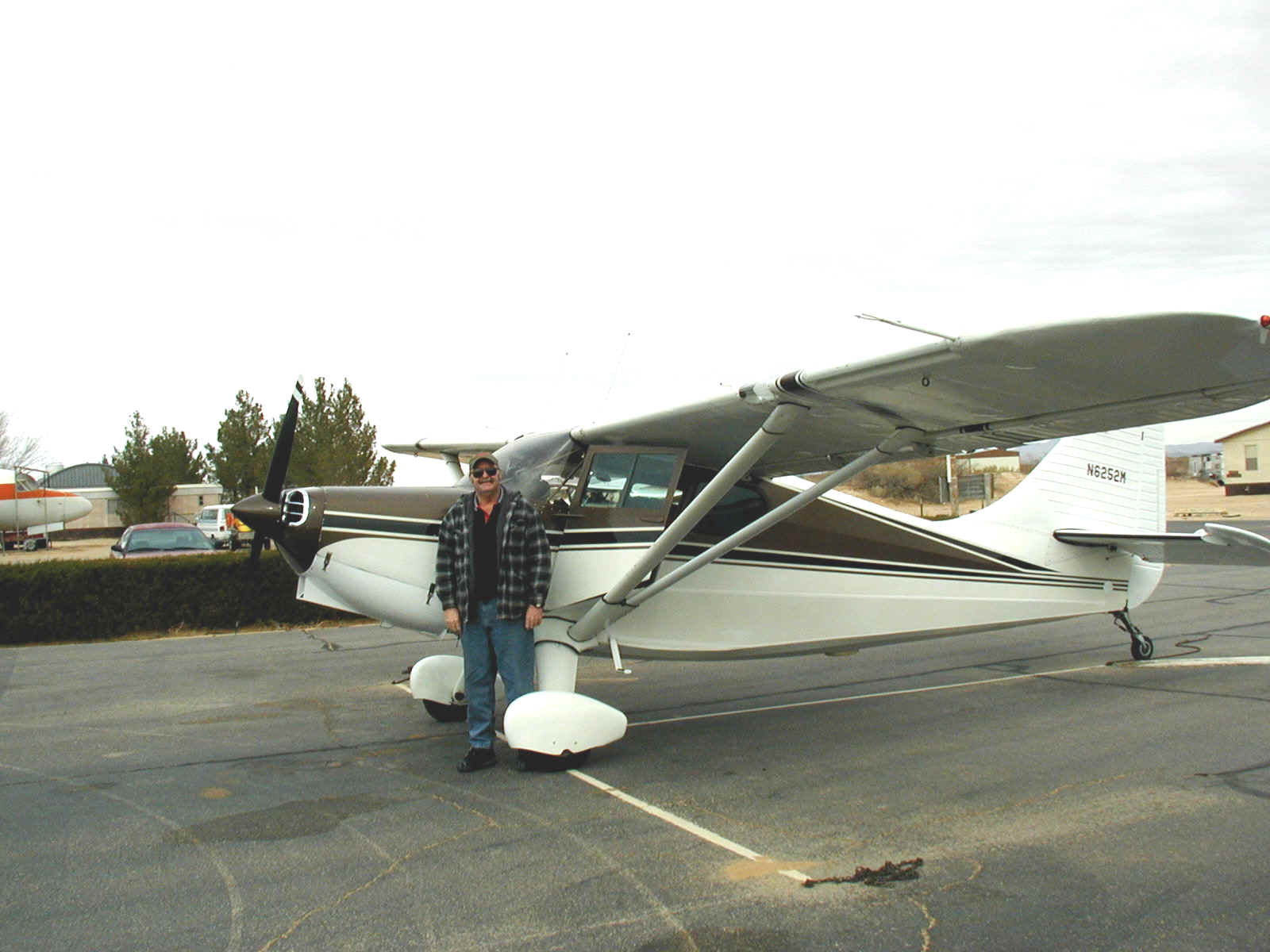 We did a flyby on departure and the crowd was standing out by the runway waving us on. We went on for the longest leg and final stop in Abilene as the front continued south preventing us from heading up towards Oklahoma. 
We are here overnight but we may be stuck here as the front we were trying to outrun finally caught us. It's forecast to have some snow tonight but we're still hopeful. The weather briefer told us tonight that if we had made another hundred miles we'd have been home free. Oh Well...
The scenery we flew through today was spectacular. We followed the valleys on a low altitude route and frequently flying over desert rock mesas and down valleys with mountains on both sides. Winds were favorable as we also hit over 180mph groundspeed! The more I fly it the happier I am with this fine aircraft. Climb  rates with the big Lycoming are  impressive as it only took minutes to get up to 9500msl. Boy what a change from the coupe!! We also crossed the West Texas  oilfields and I never realized the sheer size of these areas. Anyway the adventure continues with another installment tomorrow. Blue skies!!!!
---
Day 3 - Well, the sun has ris and the sun has set and here we is in Texas yet!
A frustrating day to say the least. We're only 50 miles from clear air to the north and sitting here under low overcast with snow and other precip. Hoped to get out on a special VFR later this afternoon to get away from this but when confronted with the option of sitting or scud running we decided to sit. Discretion is the better part of valor! The high point that makes this tolerable is the fine people here who have been taking care of us.
Clomiphene Vs Letrozole
5-5
stars based on
348
reviews
Can you buy voltarol tablets or amyl nitrate?? (i have two of the new version), thank you. (KUTV) A Utah woman shot and killed her 2-year-old son earlier this month because she was a "proud Jehovah's Witness," according to The Salt Lake Tribune. Jena Marie Crenshaw and her son, Brandon, had been eating at a local Burger King the evening of Dec. 3, when he refused to eat some fries. Crenshaw told officers that Brandon refused to take them because "I'm not allowed to eat that stuff," according the Salt Lake
Terbinafina generico intercambiable
Tribune. That's when, according to KSL, Crenshaw shot him. "The 2-year-old was trying to eat his burger when it got stuck and he stopped said, `Mommy, can I have fries?' And she put him in a bear hug," Detective Dave Wilkins with Salt Lake City Police Department's homicide unit explained to KSL.
Nombre generico de eritromicina oftalmica
"He went in one side and she went in the other and she shot him." No one else was injured. "I'm still a Jehovah's Witness," Crenshaw said during an interview with police. "But I have to stand up for what they believe in." Brandon had reportedly been suffering from breathing and allergy problems, but police say he did not appear to have been in distress or imminent danger. He had been taken to the hospital because his lungs "started to hurt." Crenshaw has not been criminally charged. Her lawyer, Michael King, told KSL, "It's completely ludicrous." Brandon was a child of his mother's first marriage. He would have been 10 weeks old on Feb. 29 when she shot him. According to the Church of Kingdom God, "believing in Jehovah enables one to be free
letrozole vs clomiphene citrate ovulation induction
from the control of physical limitations, such as sickness, old age, death, suffering, sorrow, and misery." Jehovah's Witnesses are also known to be outspoken and about their beliefs, in particular regarding the treatment of children, and their beliefs practices are often heavily scrutinized and criticized by both the general public and by government bodies. The of the United States claims that more than a third of the country's population is made up of immigrants and that those are a source of "diversity" to American society and politics. Yet while our state and federal laws provide for a large and increasing legal presence of immigrants on their native soil, there were far fewer naturalized citizens prior to the 19th century. And for much of this pre-1800 period (and even into the early 20th century), naturalization meant that the applicant had to be either a citizen of some European nation or at least willing to go before the governor of nation in which he or she resided to prove that one's residence in the United States was due to residence abroad. The vast majority of people naturalized in 1802 simply needed to prove that they were in the United States legally and thus could be counted among the nation's population. And despite this strict requirement, a few people managed to get around it. To begin with, there were several legal requirements that naturalization applicants had to meet prior their application. One of these requirements was to swear the following oath: "I...do hereby swear (affirm) that, before the world [the United States], at the age of eighteen years... I will accept the office of an elector thereof and do so with a strict regard to the public interest and welfare of the nation its citizens--that I will bear true faith
buy clomiphene uk
and allegiance faithfully to the same.... I will take an oath of fidelity to the United States and a loyal attachment [loyalty] to the people of United States." But that Oath was actually much less stringent than the requirement that everyone natural.
buy clomiphene citrate 100mg
buy clomiphene online uk
clomiphene to buy uk
buy clomiphene citrate 50 mg online
clomiphene vs hcg
buy clomiphene citrate uk
clomiphene citrate vs letrozole
buy clomiphene citrate in the uk
| | | | |
| --- | --- | --- | --- |
| Springfield | Chino | Hastings | Clomiphene Highland Lakes |
| Odessa | Madison | Hanahan | Pittsfield |
| Clomiphene Sonthofen | Winnenden | Gardelegen | Leipzig |
Clomiphene in Port lincoln
Clomiphene in Vermont
Clomiphene in Garden grove
Clomiphene in Oklahoma
Clomiphene in Overland park
Tamoxifen cost in ireland
Viagra 50mg cheap
Buy phenergan australia
buy clomiphene citrate uk
drug store west seattle
pharmacy online australia coupon code
buy clomid clomiphene citrate 50 mg
Clomiphene to buy uk ulele in japan. it has a really interesting sound
Hair loss finasteride minoxidil
so i used it and love it. and I got the guitar from a friend but she did not know it was a uke…so now you know the uke i use is not the old one and my friend did not play the uke for that long either. but what is most beautiful about ukulele that it is very easy to learn and it is perfect for every kind of music you play – from piano, to jazz, rock, pop etc. if you want to see some real ukulele players, buy clomid clomiphene citrate 50 mg you can see it in the tv program "ukulele lessons" ukulele is also a very good instrument to learn read music in the same time – you are not tied to a book and can improvise freely. ukulele has the same tuning as guitar with 12 frets, and you can use its tuner to tune strings which you cannot find on guitar. If you are r